Breakfast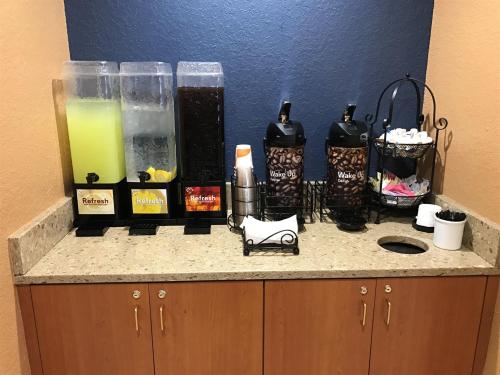 Start your day off right with our complimentary deluxe breakfast. Enjoy our 5 Breakfast Stations:
Your Morning Sizzle
Our Hot Station serving Scrambled Eggs, Bacon or Sausage, and Biscuits & Gravy.
Your Morning Chill
Our Cold Station serving Yogurt, Hard Boiled Eggs and Fresh Fruit.
Your Morning Goodness
Serving Oatmeal, a variety of Cereal, French Toast, Bagels, Muffins, Danishes, Donuts, English Muffins and Breads.
Our Waffle Station
Make your own freshly-made waffles with your choice of toppings.
Our Beverage Station
Serving Regular and Decaffeinated Coffee, Hot and Cold Tea, Orange and Apple Juice, Lemonade and Water.
Don't have time for breakfast?
We'll have a breakfast bag to-go for you at the front desk in the morning.